Christmas in August
Tuesday, August 19, 2014
It's not as bad as Christmas in July. Really, it's almost September. Soon, there will be Christmas carols playing in all the stores, and decorations adorning the High Street.

I know. What is this crazy lady thinking?


It's not a rational thought. I'm counting down the days/weeks until Baby Arrives and suddenly there aren't very many left. While I still have 6 weeks to go, we've been told to be prepared for anything from 2 - 6 weeks. You know, just in case she comes early. There's not a lot of time left to prepare anything. We have a cot. We have a moses basket. She has clothes. We're fine. (And, repeat).
And then, in all the excitement of
taking it slowly
and
trying to finish off work so I can go on maternity leave
and
well, there isn't really time for an afternoon nap, is there?
I happened upon the new Makower advent panels for this year. You get one panel of pre-printed advent calendar, and one panel of pre-printed advent calendar pockets. You cut out the pockets and assemble on top of the calendar, and
done!
Family tradition, and a sewing
win
.
They're not as Chrismassy as they have been in the past, and I love the colours. Like, really love. Greens and reds and oranges and teals.
And so, because I've been completely rational about the whole process, I bought two panels. One for our family, and one for my brother and sister in South Africa. Because really, there's loads of time to cut out individual pockets, press, top stitch, attach, add batting and press some more.
And, really, a tiny two-month-old baby needs an advent panel for her first Christmas.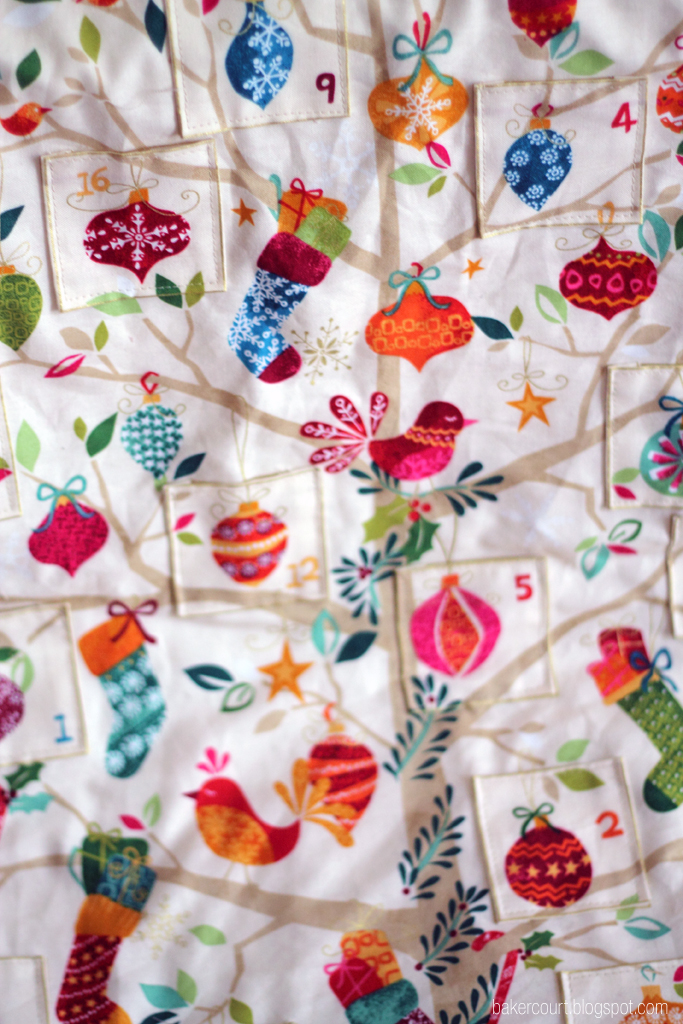 I know. It's all a bit nuts. Still, it looks rather lovely once (partially) assembled. I'll show you once they're done. All the pockets have been cut, pressed, top stitched, and attached. That was the biggest job. Now, all I need to do is add backing, wadding, hanging loops and voila! we're ready for Christmas. Sort of. We just have to get through the baby bit first.
This is the fabric (from
Stitch
) I chose to use for the backing - purely on the fact that I
had
to have those penguins. Aw.